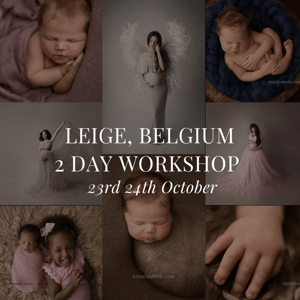 €

300.00
LIMITED TO 10 SPOTS ONLY!
This is a NON REFUNDABLE deposit for an Erin Elizabeth Photography Newborn Posing and Business Workshop located in Belgium In October 2019. Please note that the 900 EURO remainder is to be paid over two installments prior to the workshop date as follows: 450 EURO instalment due 60 days prior to the workshop & 450 EURO instalment due 30 days prior to the workshop date.
Erin Elizabeth Photography Newborn Posing and Maternity Workshops will focus on how to safely pose, soothe, calm, and keep newborn subjects happy and sleepy. In addition to discussing how to set up a newborn session using natural light, we will dive into lenses, equipment, exposure, and white balance so that you know how to get the perfect SOOC image. We will also work through step-by step post-processing for clean edits with that signature newborn creamy skin.
One factor that sets Erin Elizabeth's workshops apart is the emphasis on business. Erin ran a successful business in Sydney, NSW for four years, and didn't miss a beat after a cross-country move to a completely new market in Perth, WA. In this increasingly competitive industry, knowing how to find your market and run a legitimate and profitable business is the most important recipe for success. A large portion of the afternoon is dedicated to additional topics such as pricing, marketing, presentation, client relations, and other business matters.
Erin Elizabeth Photography workshops Belgium are limited to a maximum of ten photographers. I believe that an intimate learning environment is very important when discussing highly topical information such as posing and post-production techniques. You will be able to gain invaluable hands-on experience with shooting angles, posing, and perfecting your SOOC right from the start. Lower attendee numbers means more time for questions and personalised attention, which in turn maximises your investment.
Please note that due to issues I've had in the past, I do not offer mentoring or workshops to local photographers at this time. Workshop spots are available to only those outside 250km from post code 6027 (Mullaloo).
Please also note that this deposit is NON REFUNDABLE. Thank you!